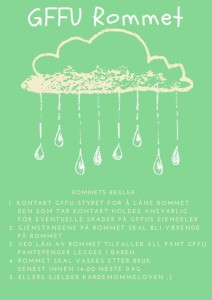 GFFU disponerer et rom på toppen av østfløyen (loftet). Her har vi styremøter, vorspiel, fester og nachspiel (gjerne i den rekkefølgen, faktisk). Rommet er utstyrt med kjøleskap, sofaer, stoler, krakker bord og mye, mye mer. (Les "GFFUs saga om fester og fanteri" aka "hytteboka", det sies at det står mer mellom linjene enn hva som godt er – om dere vil vite hva som faktisk befinner seg i det rommet…)
Alle kan låne rommet, men det kreves godkjennelse fra styret (send mail til: gffu@gfi.uib.no). Reglene ser dere på bildet, og de bør være greie retningslinjer for ethvert arrangement som får plass i rommet.
//
The GFFU has a room in the attic of the east wing. We have meetings, pre-parties, parties and after-parties (often in that sequence). The room is equipped with a fridge, sofas, chairs, stools, tables and much, much more. (Sadly, most of the content of the visitor's book is written in Norwegian (some of it is in Swedish too, actually – consider it a fine opportunity to learn the obscure parts of our language.)
To borrow the room, you need permission from the GFFU leaders (send a mail to: gffu@gfi.uib.no). The rules are also in Norwegian, but we hope to have a translated version out soon.